The world of SMSFs is complex and changes all the time. There is a continuous stream of new ATO rulings and court findings. And that's before the politicians get going.
Little wonder that many auditors are leaving the industry or under-going ATO imposed re-education.
Joel Curry has personally conducted more than 15,000 SMSF audits since 2002. He is ranked in the top 2% by the ATO and a previous SMSF Auditor of the Year.
TriSuper Auditors services a national client base, but small enough to know your name when you call.
We offer you:
A tailored service to suit your business, your processes, your time frames.
Expertise you can trust, with a thorough audit process that gives your client peace of mind.
Approachable, knowledgeable advice on any query – just a phone call away.
Remedy breaches with you before the ATO finds out.
Fixed fees agreed on upfront so that there are no surprises.
Fast turn around – typically 72 hours, but we can do it in 24 if you want.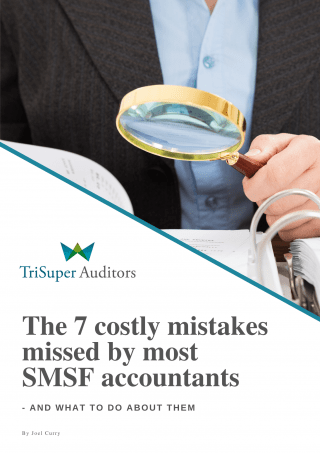 Do you make these common mistakes?
The 7 costly mistakes missed by most accountants with SMSFs (and what to do about them).
Expert advice – saving my clients tens of thousands in penalties
TriSuper Auditors are knowledgeable and provide excellent advice and technical support. They have helped my clients several times
They fit into our world
Simply outstanding; available, helpful, responsive and very competitive fees. They fit into our world and make it all so simple.
That personal contact is crucial
They do it, they do it well, and I like dealing with the auditor directly. Their pricing is really good, they are straight-up, and that personal contact is crucial.
Expertise, availability, excellent service – all at a very reasonable price
Great breadth of experience and expertise, which means they always have a constructive answer to any of my clients' challenges, some of which can be very complex. Always available, they provide a great service, a personal touch and all at a very reasonable price.
Free SMSF Review
Some SMSFs are very tricky. We are happy to review one for you to help. No expectations. It's our way of giving back.
Compliance - does the SMSF comply with all the ATO rules and regulations including SISA, TRIS and SISR?
Breaches – are there any breaches that have your clients exposed to high penalties? That they will have to pay themselves.
Improve its performance – identify ways in which the SMSF pays less tax to the government and protects your clients' assets.